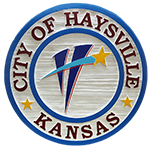 Park Worker 3 - City of Haysville
Apply
"GREAT THINGS ARE HAPPENING IN HAYSVILLE"
Haysville is a growing community located just south of Wichita. Preserving its small town atmosphere, Haysville is a close knit community that has a lot to offer, such as top rated schools, affordable housing, dining, lodging, and several fun festivals and events throughout the year. It's a great place to live and work.
The City of Haysville's Public Works Department is accepting applications for a Park Worker 3.

Job Description:
This position will perform mowing and landscaping duties of city owned parks and property with priority on sports field management. Applicants must be able to operate and maintenance mowers, tractors, hand and power tools, weed eaters, trucks and other department equipment. The ideal applicant will have previous experience in commercial mowing and irrigation systems with the ability to troubleshoot irrigation or equipment issues. Those individuals with commercial landscaping experience and/or mechanical experience are encouraged to apply.
Exposure to blood borne pathogens, odors, noise, electrical and mechanical hazards is expected. Physical abilities include, but are not limited to, the ability to climb and balance, kneel, crouch, crawl, and lift or move up to 100 pounds. Working in all types of weather conditions can also be expected.
Regular work days are Monday – Thursday, 7:30 A.M. to 5 P.M. Friday 7:30 A.M. - 11:30A.M. with forty hours per week. There is overtime when warranted.
Requirements:
· 18 years of age or older
· High School Diploma or GED Equivalent
· Background Check
· Physical Capacity Testing
· Drug/Alcohol Screening
· Valid Kansas Driver's License
· Three Years of similar or related experience
Compensation:
Starting salary is $18.08 per hour. The City of Haysville offers an extensive benefits package that includes personal holidays, sick leave, KPERS retirement and vacation after one year of service. The City operates a wellness incentive program that with participation offers paid time off.
How to Apply:
Those interested in this position can apply at www.ksgovjobs.com or applications are available at the Public Works Office, located at 401 S. Jane Haysville, Kansas. Questions about the position can be submitted to the Parks Superintendent by calling 316-529-5940. Position will remain open until filled.