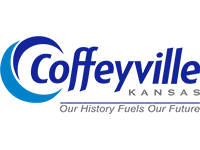 Police Officer - City of Coffeyville
Apply
The City of Coffeyville is seeking highly motivated individuals who are committed to a long career with our Department. We are seeking men and women with character and competence that are interested in serving in a community where you are allowed to do pro-active police work and where your police administration, city government and citizens respect and support police officers.
The Coffeyville Police Department is a modern, highly committed department with an authorized strength of 27 sworn officers serving approximately 9,000 residents. Duties include pro-active patrolling areas of the city to prevent the commission of crime, preserve law and order, respond to general service calls, investigate misdemeanor and felony level complaints and enforcement of laws and traffic ordinances. Officers are required to perform technical and administrative functions serving the public and police department and function independently for most of work shift.
Non-certified applicants starting annual base salary is $35,900 with certified applicants annual base salary from $39,229 to $42,557, dependent on experience. Sign-on bonus of $3000 for current certified candidates upon meeting program criteria. Bi-weekly schedule with generous overtime policies/opportunities. KP&F retirement and excellent benefit package including health insurance, vacation, holiday pay, sick leave, deferred comp program, uniform cleaning allowance.
The Emergency Services Center opened in 2018 and has a full-service fitness room including free weights, functional fitness, treadmills, and mat area. 16 bed City Jail with multi vehicle Sally Port, large training room, break room, locker rooms, and secure communications center. Our patrol fleet is equipped with the latest equipment including; Watchguard in-car camera system, moving and stationary radar, transport cage, tire deflation devices, patrol rifles, less lethal weapons, PBT, window tint meter, etc.
The department maintains a full-service tactical unit with the latest tactical equipment including an armored rescue vehicle, robots, HK weapons, night vision, thermal imagers, LRAD 300X system, drones and numerous other specialty weapons and equipment. In 2020, our county wide Crisis Negotiator Team acquired a new throw phone system and LRAD 100X communication device and supports our tactical team. Our investigators have a state of the art surveillance vehicle, covert listening devices, and other covert monitoring equipment for criminal investigations.
The PD also maintains a firearms range inside the city limits. The range has a combat course range with steel plates and a stationary target range out to 100 yards, and is equipped for moving targets, elevated platform, shooting from vehicles, and night shooting. A 360 degree, live-fire shoot house in currently in development. Handgun and rifle duty/practice ammunition is provided.
Advancement/promotion opportunities include, Detective, Sergeant, Lieutenant, Captain, and Chief of Police. Some additional duties after specialized training include Special Operations Team, Hostage/Crisis Negotiator, Tactical Driver (Armored Rescue Vehicle), SCRAM Team (Street Crime Unit), K9 Handler, Firearms Instructor, Taser instructor, DARE Instructor, Defensive Tactics Instructor, Field Training Officer, Drone Pilot, Clandestine Laboratory Enforcement Team, Less Lethal Instructor, and many other collateral duty assignments.
The Department maintains minimum staffing on three 8 hour shifts. Minimum requirements are high school diploma or GED, 21 years of age, good driving record. Preferred qualifications are Kansas Certified Law Enforcement Officer or equivalent from another State. Residency requirement that employees must reside within State of Kansas and within 25 miles of 7th & Walnut in Coffeyville and be able to respond within 40 minutes of call within six months of hire date.
Reasons for disqualification - any Brady/Giglio rulings will not be considered; no felony convictions; no conviction or expunged conviction or being placed on diversion for crime of domestic violence; currently on probation, parole or diversion; no use of marijuana in last 2 years; dishonorable military discharge; conviction or diversion of DUI or other serious traffic violation in the past 5 years; usage of any illegal drug within the past 5 years or the sale of controlled substance at any time. Questions on disqualifications can be addressed by Chief Bromley at 620-252-6122.
Applicants will be contacted by phone regarding date of written test. Physical agility test will be conducted following written testing for applicants that pass written test. Applicants that do not attend written testing will not be considered.
Application process includes: written test, physical agility test, oral interview, background investigation, psychological test battery, polygraph and medical exam that includes back x-ray and drug screen. Applications accepted until position filled. EOE