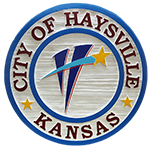 Systems Analyst - City of Haysville
Apply
POSITION SUMMARY
Under the general supervision of the Director of Information Systems, the System Analyst is a non-exempt position under FLSA which performs technical systems duties. Responsible for the assistance in maintaining local/wide area networks (LAN/WAN), wireless networks, telecommunications processes, data communications processes, information processing, cybersecurity and data continuity. Must maintain absolute confidentiality of information, data and records obtained through or because of employment with the City.
ESSENTIAL FUNCTIONS
· Maintains accurate computer resource documentation;
· Initial setup and provisioning of computer operating systems;
· Verifying and reviewing data backups;
· Analyze and resolve technical problems with desktop computers, tablets, monitors, printers and other computer accessories;
· Analyze and resolve technical problems for a variety of office software, including but not limited to: Microsoft Office, Adobe Cloud, gWorks accounting, Paraplan scheduling, Obseron cameras and others as needed;
· Assists with major server and network upgrades and changes;
· Consults with users and facilitates the use of City software and hardware;
· Troubleshoots system/network problems;
· Assumes the duties of the Director of Information Systems in his/her absence;
· Follows safety procedures and practices;
· Follows department policies and procedures.
MARGINAL FUNCTIONS
· Works with Multimedia Specialist as directed;
· Assists with maintenance and development of webpages;
· Assists other departments;
· Performs other duties as deemed necessary or assigned.
POSITION REQUIREMENTS
Experience: One to three years of similar or related experience is required; two years comprehensive experience with computing software and hardware. Expected to have acquired the necessary information and skills to perform the job reasonably well within six months to one year of employment.
Education: Bachelor's degree in related field is required. Completion of Windows certification preferred (work experience may be substituted for education). Must possess a valid Kansas Driver's License (or obtain within 30 days of employment).
Background: Must pass a KBI Background Check.
Technical Skills: Thorough knowledge of current computer hardware, software and networking systems. Technical knowledge of computer repair and installation is required. Strong analytical skills plus ability to apply basic statistical techniques are required. Excellent troubleshooting skills required. Must operate computers, keyboards, photocopiers, calculators, telephones, and other department equipment. Should possess excellent public relation and organizational skills, and oral and written communication skills in English. Must possess ability to train on computer software. Must maintain absolute confidentiality of information, data and records obtained through or because of employment with the City.
Problem Solving: Frequent problem solving. Encounters problems with computer hardware and software, employee concerns.
Decision Making: Frequent independent decision making. Makes decisions about hardware and software, and performing daily duties in the most efficient manner. Decisions often made in stressful situations.
Supervision: Works under the direction of the Director of Information Systems. Has no supervisory responsibilities.
Financial Accountability: Responsible for department and city equipment.
Personal Relations: Frequent contact with co-workers and supervisory personnel.
Working Conditions: No adverse working conditions exist. Working in an office setting with a computer is the primary aspect.
Physical Requirements:
Frequently required to sit and talk or hear, use hands to finger, handle, feel or operate objects, tools, or controls; and reach with hands and arms. Occasionally required to stand, walk, climb or balance, stoop, kneel, crouch, or crawl. Must frequently lift and/or move up to 60 pounds. Specific vision abilities required by this job include close vision and the ability to adjust focus. Must safely operate a vehicle.