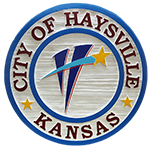 Office Clerk - Part Time - City of Haysville
Apply
POSITION SUMMARY
Under the supervision of City Clerk/Treasurer, the Office Clerk is a non-exempt position under FLSA and performs general
clerical and receptionist duties. Responsible for receiving the general public and providing customer assistance. Receiving
monies and posting payments to customer accounts is required. Answers phone, takes messages, files and makes copies, and
forwards calls and messages. Must maintain absolute confidentiality of information, data and records obtained through or
because of employment with the City.

ESSENTIAL FUNCTIONS
* Answers the telephone and directs calls to appropriate personnel;
* Provides customer service and fields questions, concerns, and complaints from the general public;
* Receives utility payments from customers and posts to customer accounts;
* Assists customers establish new water accounts, processes account transfers, and schedules service
connections/disconnections;
* Sorts water payments and posts daily;
* Rents park shelters and other facilities;
* Inspects City facilities after rentals as needed;
* Performs general office duties;
* Orders office supplies;
* Sells permits, tags, registrations and licenses;
* Logs receipts on spreadsheet before filing;
* Prints or orders business cards, letterhead and forms;
* Follows department policies and procedures;
* Follows safety procedures and practices.

MARGINAL FUNCTIONS
* Trains front office staff
* Registers voters;
* Assists other departments;
* Performs other duties as deemed necessary or assigned.

POSITION REQUIREMENTS
Experience: One year of similar or related experience is required. Expected to have acquired the necessary information and
skills to perform the job reasonably well within six months to one year of employment.
Education: A high school diploma or GED is required. A certified transcript will be accepted in lieu of a diploma. Must possess
valid Kansas Driver's License (or obtain within 30 days of employment).
Technical Skills: Working knowledge of computers, mathematics, and office procedures is required. Must operate computers,
printers, typewriters, calculators, photocopiers, and other office equipment. Must perform word processing duties, prepare
spreadsheets, work with data bases, maintain accuracy, perform multiple tasks, and read and interpret reports and written
instructions. Should possess efficient public relation and organizational skills, and oral and written communication skills in
English. Must maintain absolute confidentiality of information, data and records obtained through or because of employment
with the City. Must accurately make change.
Problem Solving: Occasional independent problem solving. Encounters problems with citizen complaints and computer
problems.
Decision Making: Occasional independent decision making. Makes decisions about providing citizen assistance, prioritizing
daily work assignments, and performing daily duties in the most efficient manner. Decisions often made in stressful situations.
Supervision: Works under the direction of the City Clerk/Treasurer. Has no supervisory responsibilities.
Financial Accountability: Responsible for some department resources and is required to be bonded. Does not participate in the
annual budget process.
Personal Relations: Frequent contact with the general public, co-workers and supervisory personnel. Very limited contact with
the governing body.
Working Conditions: No adverse working conditions exist. Working in an office setting with a computer is the primary aspect.
Deals with the general public including angry and upset people.
Physical Requirements: Frequently required to sit and talk or hear, use hands to finger, handle, feel or operate objects, tools, or
controls; and reach with hands and arms. Occasionally required to walk. Must occasionally lift and/or move up to 60 pounds.
Specific vision abilities required by this job include close vision and the ability to adjust focus. Must safely operate a vehicle.