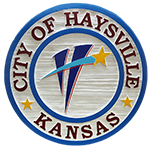 Economic Development Director - City of Haysville
Apply
POSITION SUMMARY
Under the general supervision of the Deputy Administrative Officer, the Economic Development Director is a non-exempt position under FLSA which performs administrative work involved with the development and implementation of economic development activities. Responsibilities include the planning, implementation and management of a coordinated program and policies to assist local business and industry, attract new business and industry and enhance the business climate of the City. Must maintain absolute confidentiality of information, data and records obtained through or because of employment with the City.
ESSENTIAL FUNCTIONS
• Plan, implement and manage a coordinated program to assist local business and industry;
• Plan, implement and manage a program to attract new business and industry;
• Works with Haysville Forward Inc. to develop goals and objectives;
• Project a favorable image and promote Haysville advantages through a cooperative media campaign;
• Coordinate the involvement of community leadership and governmental representatives;
• Act as the City representative for economic development by being a member of local, state, regional and national boards and organizations and works with other area agencies;
• Develops, for Council review and approval, new ideas of incentives that could be offered to potential companies interested in locating or relocating to Haysville;
• Performs work on special projects;
• Presents a positive image of the City through a professional appearance and courteous attitude;
• Follows safety procedures and practices;
• Follows department policies and procedures.
MARGINAL FUNCTIONS
• Assists other departments;
• Performs other duties as deemed necessary or assigned.
Classification
QuickView
FLSA: NON-EXEMPT
ADA: APPLICABLE
FMLA: ELIGIBLE
ECONOMIC DEVELOPMENT DIRECTOR
POSITION REQUIREMENTS
Experience: Three to five years of similar or related experience is required. Expected to have acquired the necessary information and skills to perform the job reasonably well within six months to one year of employment.
Education: College Degree in Business Administration, Business Management or other related degree that can be used in furthering Economic/Community Development activities. Certification as a CED, CID or graduate from the U.S. Chamber of Commerce School of Management or the Economic Development Institute. Must possess a valid Kansas Driver's License (or obtain within 30 days.)
Technical Skills: Thorough knowledge of the principles and practices related to the principles of economic and development. Knowledge of management principles and administrative experience. Strong analytical skills plus ability to apply basic statistical techniques. Must operate computers, photocopiers, calculators, telephones, and other department equipment. Must prepare reports, budgets, interpret data, understand and anticipate problems, and read and interpret budget documents, reports, and other written instructions is required. Should possess excellent, public relation, organizational, oral and written communication skills. Must maintain absolute confidentiality of information, data and records obtained through or because of employment with the City.
Problem Solving: Independent problem solving. Encounters problems with determining incentives to be offered to business and resolving conflicts between private business needs and pubic concerns. Determining best methods to market the city. Understanding budget needs and writing grants.
Decision Making: Frequent independent decision making. Makes decisions about expenditures of funds to assist businesses and market the city regionally and nationally. Setting priorities for work assignments.
Supervision: Works under direction of the Deputy Administrative Officer. Has no direct supervisory responsibilities.
Financial Accountability: Responsible for office and city equipment. Participates in the annual budget process.
Personal Relations: Daily contact with co-workers, and supervisory personnel. Frequent contact with the governing body.
Working Conditions: No adverse working conditions. Working in an office setting with a computer is the primary aspect. Deals with the general public including angry and upset people. Works holidays if required, subject to call backs/call-ins.
Physical Requirements: Frequently required to sit and talk or hear, use hands to finger, handle, feel or operate objects, tools, or controls; and reach with hands and arms. Occasionally required to stand, walk, climb or balance, stoop, kneel, crouch, or crawl. Must occasionally lift and/or move up to 60 pounds. Specific vision abilities required by this job include close vision and the ability to adjust focus. Must safely operate a vehicle.