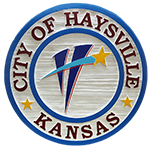 Police Officer, Haysville Police Department - City of Haysville
Apply
Police Officer, Haysville Police Department
The City of Haysville is a community of approximately 11,000 people located just south of Wichita in South Central Kansas. We are currently seeking qualified applicants to fill the position of Police Officer. When fully staffed we have 26 sworn law enforcement officers, an Animal Control Officer, and six Records Clerk staff on three shifts. We have multiple specialty assignments within the department including the DEA Task Force, K-9 Unit, Bike Patrol, School Resource Officer, Warrants, and Community Policing. We have an Investigations Section staffed by a Lieutenant, a Detective Sergeant, a certified Computer Forensic Analyst, and three detectives.
TYPE: Full Time SHIFT WORK: 1st 7a-3p 2nd 3p-11p 3rd 11p-7a
SALARY: The starting wage is $18.07 per hour. After six months of employment and the successful completion of your KLETC training and certification, you will receive a step increase to $18.61 per hour. Officers who are already KLETC certified with a combined 4 years of service are eligible to test for Master Police Officer after 6 months of employment. MPO's starting wage is $19.67 per hour with a step increase to $20.26 per hour after six months in the position.
MINIMUM QUALIFICATIONS:
The Haysville Police Department prefers officers who are KLETC certified. We will consider sending the right non-certified candidate to KLETC for training and certification if the opportunity presents itself. A high school diploma or GED is required. An Associates or Bachelor's Degree is preferred. Employment is contingent upon passing an initial interview with a member of the command staff, oral board interview, polygraph exam, extensive background investigation, physical, drug and alcohol screen, and psychological testing.

Haysville Police Department Disqualification List

During the Haysville Police Department application process your background will be closely examined. Review the following background disqualifiers prior to filling out the Haysville Police Department background investigation packet. If you think any of these apply to you and you have questions, please call the Investigations Section Lieutenant or Sergeant at the Haysville Police Department (316) 529-5912 for clarification or for more information.

•Must satisfy all requirements as set forth in Kansas Statute 74- 5605. Please visit the State site for full review.

•Must satisfy all requirements set forth by the City of Haysville.

•If military service has been rendered, your DD214 must reflect a separation code and an honorable discharge or a discharge under honorable conditions.

•Applicants will be eliminated from the process if they have falsified, intentionally misrepresented, or have not been completely truthful. Elimination will also occur if an applicant has not fully disclosed ALL information requested on a questionnaire, document, or application as part of the pre-employment process.

•No convictions of any misdemeanor crimes involving morals, drugs, or weapons charges in the past five (5) years.

•Must not have used, bought, or possessed marijuana in the past three (3) years.

•Must not have used, bought, or possessed illegal or non-prescribed steroids in the past three years.

•Must not have EVER used any felony level drug or controlled substance, i.e. cocaine, heroin, LSD, ecstasy, fentanyl, hashish, mushrooms, opium, methamphetamine, etc.

•No convictions or involvement in any misdemeanor crimes of violence, or use of physical force or threats, during the past five (5) years.

•Has not been convicted, does not have an expunged conviction, and has not been placed on diversion by any state or the federal government for a misdemeanor crime of domestic violence or its equivalent under the uniform code of military justice, when such misdemeanor crime of domestic violence was committed on or after the effective date of this act.

•No convictions or involvement in misdemeanor property crimes within the past three (3) years.

•May not have been convicted of, plead guilty or no contest to, or been diverted on a serious traffic violation within the past three (3) years. Serious traffic violations include, but are not limited to, DUI, reckless driving, hit and run, vehicular homicide, and eluding a police officer.

•May not have been convicted of, plead guilty or no contest to, or been diverted on no more than two moving traffic violations within the past year.

•No convictions, diversions, expungements, or involvement of any felony crime including juvenile offenses EVER.

•Must not be currently charged with, or under indictment for, any criminal activity other than minor traffic violations.

•As an adult or juvenile must not have been convicted of a crime involving an act of dishonesty to include, but not limited to, theft, insufficient funds, fraud, false police reports etc. EVER.

•If you have previous law enforcement experience, YOU CANNOT HAVE a sustained violation of dishonesty to include, but not limited to, lying, falsifying reports or documents, illegally obtaining narcotics, or courtroom testimony/credibility.

THIS LIST IS NOT ALL INCLUSIVE. AN APPLICANT MAY ALSO BE DISQUALIFIED IF THE TOTALITY OF THE CIRCUMSTANCES INDICATES THAT YOU WOULD NOT BE SUITABLE AS A POLICE OFFICER WITH THE CITY OF HAYSVILLE.



POLICE OFFICER
POSITION SUMMARY

Under the supervision of police supervisors, the Police Officer is a non-exempt position under FLSA which protects and serves the citizens of Haysville. Provides citizen assistance, enforces all federal, state, and local criminal laws, and performs patrol duties. Making arrests, issuing traffic violations, and investigating crimes and accidents are the primary responsibilities of this position. Required to reside within a 30 minute response time to the Haysville Police Department. Must maintain absolute confidentiality of information, data and records obtained through or because of employment with the City.

ESSENTIAL FUNCTIONS
• Enforces all federal, state, and local criminal laws and ordinances; • Protects the life and property of the citizens of Haysville; • Makes arrests and issues traffic citations; • Performs routine patrol duties and prepares reports and files; • Investigates crimes and accidents and gathers evidence; • Provides citizen assistance and assists ambulance crews; • Responds to emergency situations; • Operates law enforcement equipment including patrol vehicles, firearms and communications equipment; • Performs building security checks; • Interviews witnesses, suspects, and victims; • Maintains department equipment; • Serves warrants, subpoenas, and other legal documents; • Testifies in court; • Conducts safety programs for the public; • Performs traffic control duties; • Follows department policies and procedures; • Follows safety procedures and practices.

MARGINAL FUNCTIONS
• Provides security during various events; • Assists other law enforcement agencies; • Assists other city departments; • Serves as a field officer; • Performs other duties as deemed necessary.
Classification Quick View
FLSA: NON-EXEMPT
ADA: APPLICABLE
FMLA: ELIGIBLE
OSHA: BLOODBORNE PATHOGENS
WORKING CONDITIONS: HAZARDOUS CHEMICALS EXPLOSIVES RADIATION ADVERSE WEATHER



POLICE OFFICER POSITION REQUIREMENTS
Experience: A minimum of 12 months of law enforcement experience is preferred. The right non-certified candidate would be considered for KLETC training. Expected to have acquired the necessary information and skills to perform the job reasonably well within one year of employment.
Education: A high school diploma or GED is required. Requires certification from the Kansas Law Enforcement Training Center. Must possess a valid Kansas Driver's License required (or obtain within 30 days of employment). Must obtain necessary training as required by state standards to maintain certification.

Technical Skills: Thorough knowledge of all federal, state, and local criminal laws and ordinances, CPR, law enforcement techniques, and mathematics is required. Must efficiently operate firearms, patrol vehicles, computers, two-way radios, radar equipment, breath analysis equipment, and other law enforcement equipment. Must concentrate on tasks in the presence of distractions, complete and check forms and documents, understand and anticipate problems, read and interpret maps, manuals, legal documents, reports, and written instructions. Should possess excellent public relation skills, and oral and written communication skills in English. Ability to train personnel. Must maintain absolute confidentiality of information, data and records obtained through or because of employment with the City.
Problem Solving: Frequent independent problem solving. Encounters problems with domestic violence, citizen complaints, traffic violations, and criminal investigations.
Decision Making: Frequent independent decision making. Makes decisions about using force, including deadly force, making arrests, investigating crimes and accidents, and performing daily duties in the safest and most efficient manner. Decisions often made in volatile situations.

Supervision: Works under direction of a police supervisor, but does not have supervisory responsibilities over subordinate personnel.

Financial Accountability: Responsible for the safe operation of department equipment and is required to be bonded. Does not participate in the annual budget process.

Personal Relations: Frequent contact with the general public, co-workers, and supervisory personnel. Very limited contact with the Governing Body.

Working Conditions: Works in conditions that include exposure to hazardous materials, explosives, radiation, heights, excessive noise, and adverse weather conditions. Deals with the general public including those who are combative, excited, injured, upset or angry. Contains an element of risk of personal injury. Exposed to blood borne pathogens while investigating crime scenes, seizing and preserving evidence and assisting ambulance crews. Works shifts and holidays, subject to call-backs/call-ins.

Physical Requirements: Required to sit and talk or hear. Occasionally required to stand; walk; use hands to finger, handle, feel or operate objects, controls, or tools listed above; reach with hands and arms; climb or balance; stoop, kneel, crouch, or crawl; and taste or smell. Must occasionally lift and/or move more than 100 pounds. Specific vision abilities required by this job include close vision, distance vision, color vision, peripheral vision, depth perception and the ability to adjust focus. Must safely operate a vehicle.
The specific statements shown in each section of this description are not intended to be all inclusive. They represent typical elements and criteria considered necessary to successfully perform the job.
OBTAINING AN APPLICATION:
To apply please email Lt. Kevin Sexton at ksexton@haysville-ks.com for a City of Haysville application and investigations background packet. You can also get the application paperwork in person at the Haysville Police Department, 200 W. Grand Ave. in Haysville. If you have any questions about qualifications you can call Lt. Kevin Sexton at 316-529-5912, M-F, 9:00am-5:00pm