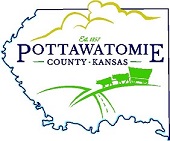 Public Health Nurse - Pottawatomie County
Apply
Position open until filled. Full-time, includes excellent benefit package (health, dental, vision, paid time off, KPERS retirement, more)
Starting salary: $22.31 - $25.00/hour (actual salary dependent upon education and experience)

Primary responsibilities include providing public health nursing assessment and care, providing health education, monitoring health risks and communicable disease in the county, and promoting good health in Pottawatomie County.
Education/Experience: High school diploma, GED, or equivalent, and graduation from an accredited School of Nursing. Employee should be a Registered Nurse (RN) and currently licensed to practice in the State of Kansas. One year of similar or related experience required.
Must have and maintain valid driver's license, and clean driving record.
A "clean" record is defined as: No misdemeanor or felony convictions for traffic/vehicular offenses (such as but not limited to DUI, vehicular homicide, reckless driving, hit and run, etc.) that are less than five (5) years old; no more than two (2) at fault or chargeable accidents that are less than five (5) years old; no more than two (2) traffic infractions (such as but not limited to speeding, failure to yield right of way, etc.) that are less than one year old.
For questions regarding employment with Pottawatomie County, please contact Human Resources at 785-457-3455, PO Box 348, Westmoreland, KS 66549, or e-mail humanresources@pottcounty.org.
Drug Free Workplace: Pottawatomie County is committed to a Drug-Free Workplace. By submitting my application I understand the County requires the successful completion of a post-offer, pre-employment drug test as a condition of employment. This position may also requires additional testing, which may include written, verbal, or physical assessments.
Completion of an employment application does not constitute an offer of employment nor is a completed application considered a contract of employment. Employment with Pottawatomie County is considered to be "at-will". Submission of an application does not establish an obligation for Pottawatomie County to offer employment. Additionally, any misrepresentation or omission of information on the employment application may result in the rejection of the application or in dismissal from employment.