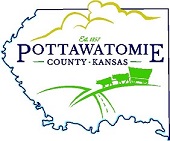 Deputy - Pottawatomie County
Apply
Pay rate: $17.27 - $20.17/hr based on experience, plus excellent benefits.
The Pottawatomie County Sheriff's Office is seeking a motivated individual to work with our agency as a Deputy Sheriff. Responsibilities include but not limited to; responding to emergency calls, conducting investigations, patrolling, giving first aid, serving warrants, gathering evidence, interviewing and many other responsibilities. (County residency is a requirement if hired, you do not need to live in the county to apply)
Amenities Offered:
Take Home Car
Paid Training
Equipment Provided
Competitive Pay
KP&F Retirement
Social Security Benefits
Deferred Compensation with employer match
Health, Dental and Vision Insurance
Paid Time Off, plus 10 paid Holidays
Requirements:
Must be at least 21 years old and possess a valid Kansas Driver's License
Must be a United States Citizen
No felony or domestic violence conviction
Successfully pass a physical agility, written and physiological exam
Strong communications skills, strong integrity, morality and enthusiasm
If you are interested in working for one of the fastest growing counties in Kansas, you can learn more by contacting the Pottawatomie County Sheriff's Office (ask for Shenan) at 785-457-3353; or scline@ptsheriff.com. EOE
For information about benefits, or employment with the County please contact Human Resources at 785-457-3455, PO Box 348, Westmoreland KS 66549; or humanresoureces@pottcounty.org.
Drug Free Workplace - Pottawatomie County is committed to a Drug-Free Workplace. By submitting my application I understand the County requires the successful completion of a post-offer pre-employment drug test as a condition of employment. This position also requires additional testing, which may include written, verbal, or physical assessments.
Completion of an employment application does not constitute an offer of employment nor is a completed application considered a contract of employment. Employment with Pottawatomie County is considered to be "at-will". Submission of an application does not establish an obligation for Pottawatomie County to offer employment. Additionally, any misrepresentation or omission of information on the employment application may result in the rejection of the application or in dismissal from employment.