Partner Information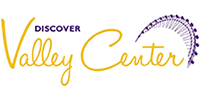 On behalf of our over 7,300 friends and neighbors in this community, we welcome you to Discover Valley Center, Kansas! Valley Center is a beautiful, friendly community situated in the Little Arkansas River Valley just nine miles north of downtown Wichita, and less than one-mile west of Interstate I35. We know what it's like to have the best of both worlds. We'll exceed your expectations and that you'll discover what we have always known: Valley Center is an incredible place to call home!
Benefit Information
Vacation Leave - Full time employees receive three (3) days of vacation upon hire and thereafter accrue vacation leave based on their number of years of service.
Sick Leave - Employees accrue 8 hours of sick leave per month.
Holidays - The City provides 11 paid holidays, 1 paid day off for your birthday, and 1 personal day each year.
Medical Insurance - Health insurance is provided through the City of Valley Center's self-funded insurance plan. The City offers a no cost High Deductible Health Plan to employees as well as Value and Premium plans in which the City can pay up to 80% of the premium cost.
Dental Insurance - Dental insurance is provided through Delta Dental of Kansas.
Vision Insurance - Vision insurance is available for employees through Surency.
Retirement - The City provides a retirement program through Kansas Public Employer's Retirement System (KPERS) and the Kansas Police and Fire Retirement System for all sworn police and fire personnel.
Deferred Compensation - Optional retirement savings program is available to employees.
Performance Pay Increases - Employees have an opportunity for a merit increase based on performance review.
Clothing Reimbursement - Each full time employee is allotted a $250.00 clothing reimbursement per year for work attire. Any safety related clothing/equipment is provided by the City.
Employee Assistance Program (EAP) - The EAP provides confidential, professional consultation for assistance in resolving personal issues. This free service is available to regular full-time employees beginning on their first day of employment. Employees may voluntarily seek the services of the EAP as needed.
The City of Valley Center is an Equal Opportunity Employer.
It is the policy of the City of Valley Center not to discriminate in its programs or services provided to the general public, including employment and all other activities, on the basis of race, color, religion, national origin, citizenship, sex, age, disability, veteran status or any other similarly protected status.
American Disabilities Act (ADA)
The City of Valley Center does not discriminate on the basis of disability in its hiring or employment practices. Those applicants requiring reasonable accommodation to the application and/or interview process should notify a representative of the Human Resources Department. The City shall make reasonable modifications in policies, practices, or procedures when the modifications are necessary to avoid discrimination on the basis of disability, unless the City can demonstrate that making the modifications would fundamentally alter the nature of the service, program, or activity.
CONDITIONS OF EMPLOYMENT
Nepotism Policy
The City of Valley Center prohibits the hiring of spouses and/or immediate family members within the same department, but not within the City structure. Immediate family is defined as an employee's father, mother, wife, husband, children, sister, brother, grandparents, grandchildren, step-parents, step-children, mother or father-in law, brothers or sisters-in law, aunt or uncle, and niece or nephew.

Drug Free Workplace
The City of Valley Center is committed to a Drug-Free Workplace. We conduct pre-employment, post- employment, post-accident, based on reasonable suspicion, and random drug testing. Applicants who refuse to be tested, test positive, or tamper with the test will not be eligible for employment. Completion of an application does not constitute an employment contract or an offer of employment.

At-Will Employment
Employment with the City of Valley Center is considered "at-will". Nothing contained within the City's applications, advertisement process, or the personnel manual constitute an employment contract.