Partner Information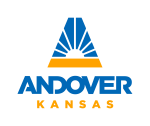 The City of Andover is a 11 square mile city in Western Butler County, Kansas. The city limits of Andover and Wichita are contiguous. Thus Andover residents enjoy a small town lifestyle with the amenities of a large city right next door. Andover is one of the fastest growing cities in the State of Kansas. The population of the city has grown from 6,698 in 2000 to over 15,000 today. The quality of life in Andover is second-to-none with a first-class school district, a 115,000 square foot full service YMCA facility (with an aquatic park), a private general hospital with a full range of services including an emergency room, and a Dillon's Marketplace.
Welcome to Andover, where we believe you will quick agree, "It's home to me!"
To view the Benefits the City offers their employees, please click HERE
The City of Andover is an Equal Opportunity Employer.
The City of Andover is an equal opportunity employer. The City of Andover does not discriminate in employment on account of race, color, religion, national origin, citizenship status, ancestry, age, sex, sexual orientation, marital status, physical or mental disability, military status or unfavorable discharge from military service.
AMERICANS WITH DISABILITIES ACT (ADA)
The City shall make reasonable modifications in policies, practices, or procedures when the modifications are necessary to avoid discrimination on the basis of disability, unless the City can demonstrate that making the modifications would fundamentally alter the nature of the service, program, or activity. The City of Andover will not place surcharges on individuals with disabilities to cover the costs involved in making programs accessible. Those applicants requiring reasonable accommodation to the application and/or interview process should notify the City's Director of Human Resources.
CONDITIONS OF EMPLOYMENT
Drug Free Workplace
The City of Andover is committed to a Drug-Free Workplace. I understand that the City of Andover requires the successful completion of a urinalysis for drug testing purposes as a condition of employment. Completion of an application does not constitute an employment contract or an offer of employment.
At Will Employment
Employment with the City of Andover is considered "at-will." Consideration for employment has not established any obligation for the City of Andover to hire me. If I am hired, I understand that either the City of Andover or I can terminate my employment at any time and for any reason, with or without cause and without prior notice.